Can't decide what shade to go next? Match your nail colour with the seasons and it's a perfect match! At Hollywood Nails Supply, we've put together a guide to show you the best, fail-safe shades for each season, so you can easily pick your favourite.
Shades by Seasons
Nail Colour Shades for Spring
Spring is the season of new life and beginnings which is why nudes and pastel shades are commonly associated with it. The hazy sunshine and welcoming of new blooms inspire the colour wheel and pair perfectly with the Easter celebrations and nature's influence.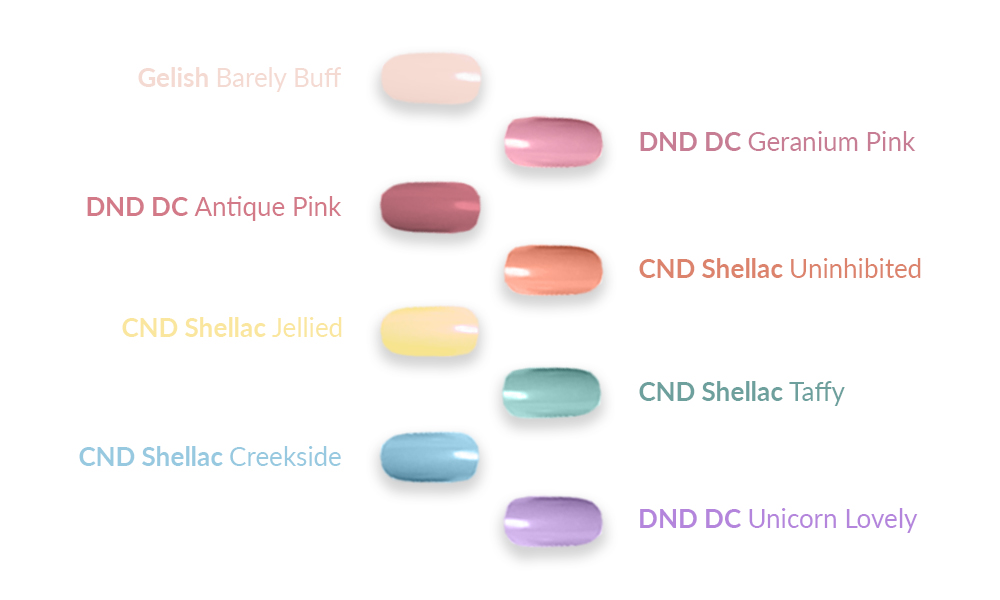 The Barely Buff shade by Gelish is a subtle, elegant nude colour that represents a new, clean slate. If you fancy a bit more pink with your neutral tones, opt for the DND DC shade Geranium Pink or Antique Pink. The best thing about nudes and neutrals are that they are timeless classics that go with anything.
We have a lovely collection of pastel shades from CND, so you have a variety to choose from. Whether you fancy an Uninhibited peach, a Jellied lemon, a Taffy mint, or Creekside baby blue, they have it all. Or, a beautiful lilac from the DND DC collection that sounds enchanted just like the season of spring: Unicorn Lovely.
Nail Colour Shades for Summer
Shift into summer by turning up those pastels a notch or two. Bright and vibrant like the summer sky, the inspiration behind the shades for this season are the bold colours that the sun brings out during this time of year. Say it loud and proud with beautiful brights!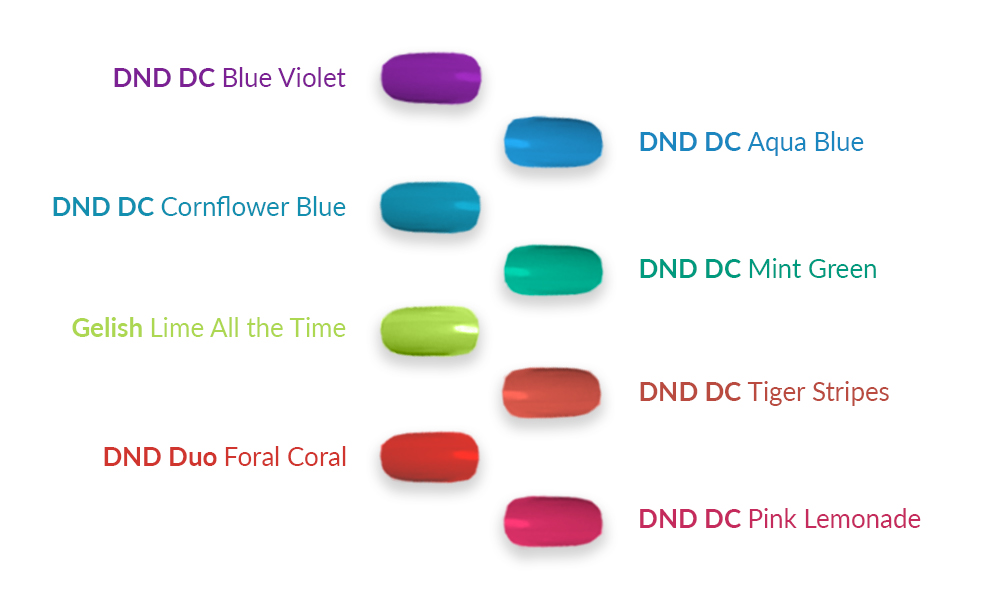 Swinging from lilac to Blue Violet, baby blue to Aqua Blue and dive into Cornflower Blue like the sea. Intensity levels are increased with these tones from the DND DC collection, with Mint Green even standing out from the crowd.
Nothing shines bright like Lime All the Time from Gelish though; you could easily be found in a crowd for a summer festival with these nails! You can not only reflect the summer sun with your nails, but the summer heat with warm pops of colour like Tiger Stripes, Foral Coral and Pink Lemonade. Unlike Skittles, don't taste the rainbow, wear the rainbow.
Nail Colour Shades for Autumn
The ideal transition from summer to autumn is to deepen these colours like they deepen in nature. The green leaves go darker, changing into rusty orange and the nights pull in making your evenings more mystical.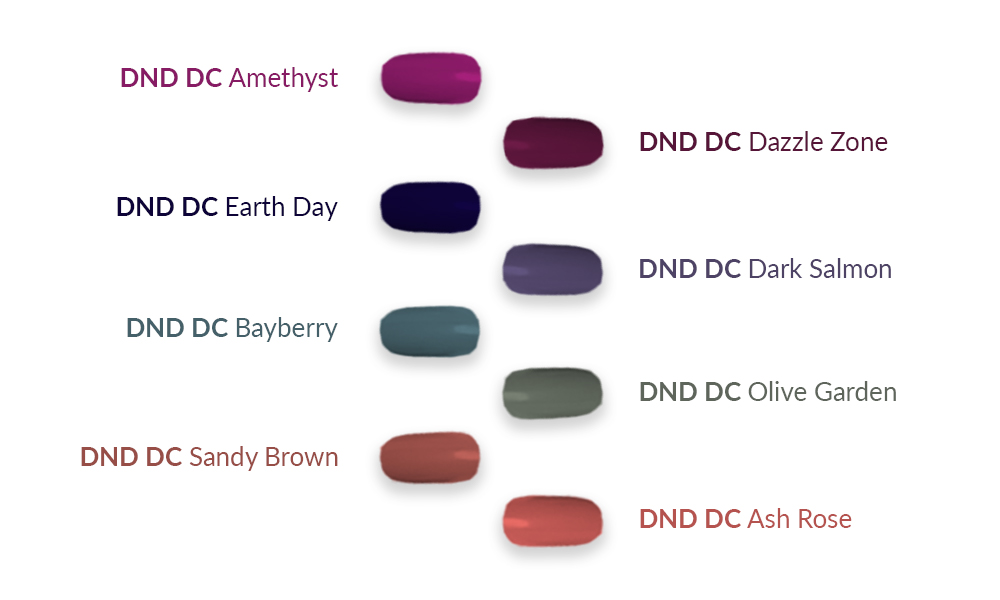 We think these shades from the DND DC collection ideally emulate this period of time between September and December. Amethyst, magical in itself, offers a deep, lustrous shade of purple, alongside Dazzle Zone and Earth Day as shades of Burgundy and Navy.
A twist on shades of grey, Dark Salmon gives beautiful blue undertones whilst Bayberry gives hints of gorgeous green. Moving into the neutrals of Autumn with khaki Olive Garden and rusty shades of Sandy Brown and Ash Rose, seamlessly blending in with surrounding Mother Nature.
Nail Colour Shades for Winter
Finally, December and back round to March, the festive season is upon us. You know what this means! The traditional colours of Christmas and New Year, plus romantic hints for Valentine's Day, the nail colours for winter are fun and fabulous.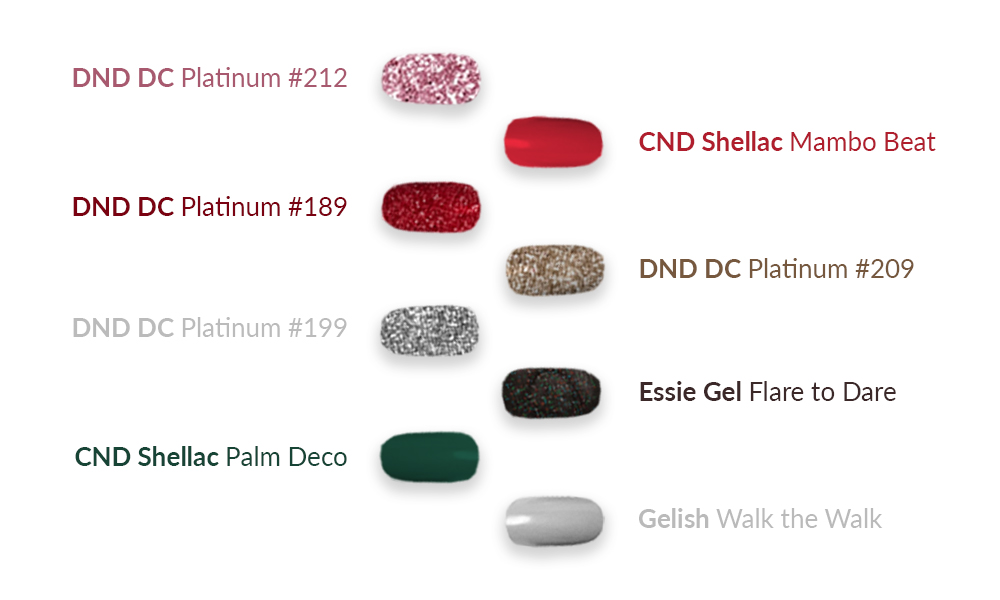 Straight off the bat, it's got to be glitter; DND DC Platinum #212 brings a pastel pink with extra flair and tonnes of sparkle. Mambo Beat red is festive and reminds us of Christmas without a doubt, whilst adding some exuberance to the dull weather.
Why not add some glitter to that red with Platinum #189? Or even more glitter with #209 and #199! The fact is, you can never have too much sparkle this time of year. If you want to be more subtle about it, the Essie Gel Flare to Dare brings delicate glitter with sophistication. A forgotten festive colour which is just as elegant in CND's Palm Deco or Gelish Walk the Walk is a shimmer rather than a glitter.
Every Colour for Every Season at Hollywood Nails Supply
And there you have it! If you only have these nail colour shades in your kit, you will be good to go every day for the entire year throughout all seasons.
These colours are classics and you know where to get them from. Have a browse of our website today to see what other Nail Colours we have in stock. Trust us, you'll be spoilt for choice!